This is a comprehensive course for anyone considering owning or carrying a firearm for self defense. The instructional materials are based on the popular USCCA Concealed Carry and Home Defense Fundamentals curriculum and satisfies the training requirement for the Maryland Wear & Carry Permit application (when taken with NRA BOPS) and renewal.
This course advances the mindset for the responsible defensive firearms owner by focusing on and understanding:
conflict avoidance
situational awareness
the physiology of violent encounters
legal aspects of using deadly force (including knowing what to do in the aftermath)
gear, gadgets, and ongoing training
applicable MD and federal laws
You'll also develop your own personal and home protection plan and shoot the MD Wear and Carry qualification course of fire.
What You'll Get
What to Bring
Pen or pencil
Highlighter (you'll highlight some things in the book)
Firearm*
200 rounds of factory ammunition (can be purchased at the range)
Firearm cleaning kit**
* You must shoot a firearm in order to qualify for the MD Wear & Carry permit; therefore, one is required. If you do not own a firearm (yet), you may rent one at the range.
Duration:  8 hours
Prerequisites:  NRA Basics of Pistol Shooting (required for MD CCW application, not required for renewal)
Cost:  Starting at $250 (varies by location; see course schedule)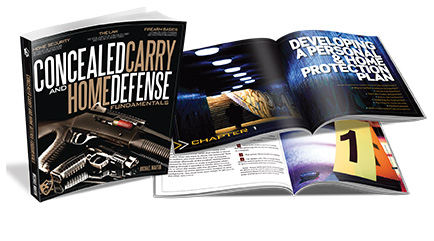 Lesson Topics
Lesson One: DEVELOPING A PERSONAL & HOME PROTECTION PLAN
Why is Conflict Avoidance so Important?
Situational Awareness
The Color Codes of Awareness
Observing our Environments
More on Conflict Avoidance
Planning for Home Defense
Mental Exercises
Lesson Two: SELF-DEFENSE FIREARMS BASICS
Properly Clearing Semi-Automatics and Revolvers
Additional Safety Considerations
Ammunition Malfunctions
Understanding Ammunition, Ballistics, Take Down Factor, Gauge & Calibers
An Introduction to Home Defense Shotguns, and the AR-15 Platform
Tasers and Pepper Spray
Lesson Three: DEFENSIVE SHOOTING FUNDAMENTALS
Muscle Memory
Proper Grip
Stance: Body and Arm Positions
Point Shooting
Sight Shooting
Flash Sight Picture
Trigger Control
Lesson Four: THE LEGAL USE OF FORCE
Legal Definitions of Reasonable Force and Deadly Force
Understanding the Use of Force Continuum
The Legal Use of Deadly Force
Defense in the Home
Defending Property
Lesson Five: VIOLENT ENCOUNTERS AND THEIR AFTERMATH
Understanding Fight or Flight
The Physiological Reactions Associated with Extreme Stress
When We're Left with No Other Choice
When the Right to use Deadly Force Ends
The Immediate Aftermath
Dealing with the Police
Lesson Six: GEAR AND GADGETS
Explaining Holster Retention
Types of Holsters
Other Gear Including Belts, Lights and Lasers
Lesson Seven: SKILL BUILDING
Properly and Safely Conducting Dry Fire Exercises
Self-Led and Instructor-Led Range Exercises from Beginner to Expert
What's Next?
Students: Home Study Materials (password-protected page)